Bring your family and friends to enjoy Mountain Springs.
Relax together in the large open-air Pavilion with picnic tables, charcoal grill, the musical sounds of moving water, and the serene view of a tiny valley.
Envision your family and friends enjoying your special day beside a private, picturesque spring-fed two acre lake!
Birthday Party
$150 for 1 ½ hours
This time includes 45 minutes of catch & release with a fishing helper.
Trout can be taken home for just $5.95/lb, cleaned & packed on ice for free.
Wedding
$500 plus $100 refundable cleaning fee
Includes time for set-up & decorating, your event, and clean-up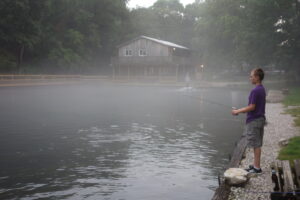 Special Event
$25/hour, two hour minimum, $15 each hour thereafter
For Pavilion rental reservations contact Johnny Edgmon
417-443-3400